Virtual Mid-Autumn Festival 2021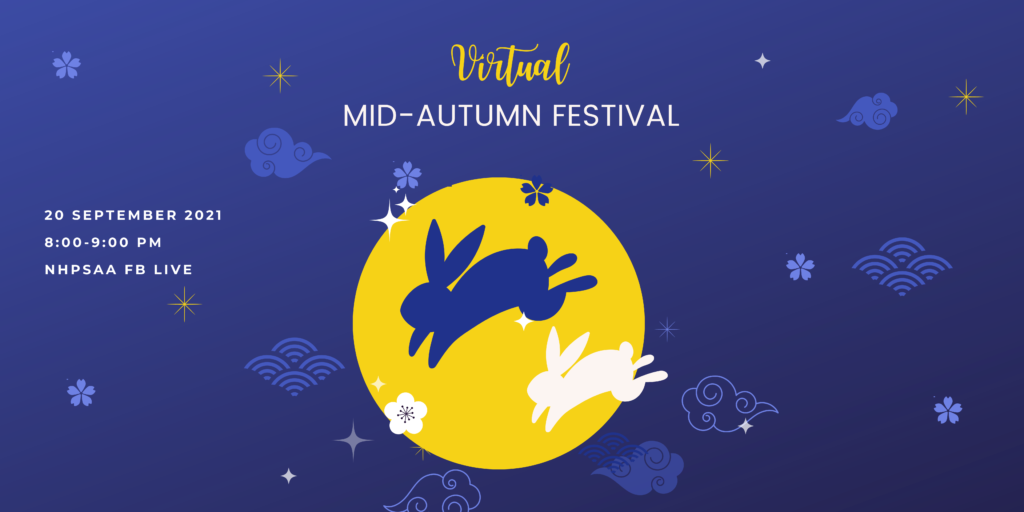 Let's connect and celebrate this year's Mid-Autumn festival at the comfort of your home (or anywhere you like!). Right after your dinner, get yourself ready to pit your wits against other fellow alumni members in our carefully selected riddles (猜灯谜) and win attractive prizes!
Date: 20 September 2021 (Monday)
Time: 8:00 – 9:00 pm
Venue: NHPSAA Facebook Page – Facebook Live
How do I participate and win prizes?
Be Creative!
From now until 19th September 2021, please tell us how you celebrate/will celebrate the Mid-Autumn festival by taking photos, telling us why, and posting them on Facebook or Instagram. Make sure you make your post is set to public and include the hashtag "#letscelebratemidautumn"!

We'll choose the top 3 entries, based on the most meaningful, most creative or the funniest, to be voted during the Facebook Live event. The entry with the highest vote wins!

Participate in the riddles (猜灯谜)!
They are more than one way to win a prize, so join us in the Facebook Live event. For the best experience, stream the event on a notebook/computer (or a separate mobile device) as you'll need a mobile phone to participate in the riddles (猜灯谜).
Frequently Asked Question
What do I need to do to participate?
All alumni members are welcome to join us at no cost and require no registration.
How are we going to participate in the riddles (猜灯谜)?
We'll conduct the riddles via menti.com. We'll provide a code in the event which you can use to access the riddles using your mobile phone.
Why is Facebook Live lagging?
We tried our best to stream the event using the best equipment we could gather. However, we're afraid that the event might still be lagging/slow for many other reasons beyond our control. Your patience is much appreciated.