Art Competition 2015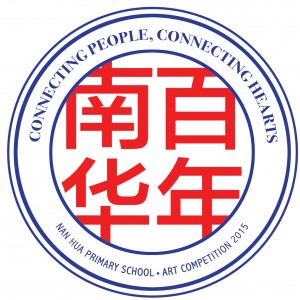 Nan Hua Primary School is organising an Art Competition with a theme: 'Connecting People, Connecting Hearts' this year. The 100 winning pieces would be featured on Nan Hua Primary School 100th Anniversary paraphernalia and other related products/activities.
There are a total of 5 categories in this competition:
Category D: Parent/ Grandparent – Child
Please click on the above categories to download the various Terms & Conditions and Application Form.
Deadline for the competition is Thursday, 8 October 2015
Category
Submission Requirements
Alumni
Participants are required to create an artwork on an A4 drawing block (21 X 29.7cm) based on the theme: 情系南华—Connecting Hearts, Connecting People with inspiration from ONE of the following taglines: 1)   让我们回"家"吧!

What makes Nan Hua home? What would you remind your seniors about Nan Hua to get them to come back and celebrate her 100th anniversary?

2)   追逐我们的梦

What are your dreams for Nan Hua? What do you hope to see in Nan Hua in future?

3)   我们度过的时光

What do you remember most about your days in Nan Hua? What are some of the memorable moments that you had in Nan Hua?

The artwork should be hand-drawn. Artwork should be in 2-Dimensional format: 3-Dimensional structures will not be accepted.

Each participant is allowed to submit only one entry.

Each entry MUST BE accompanied by a completed entry form (Annex A).

Entries would be judged on originality, design and creativity, and artistic skills in bringing across the theme (refer to Assessment Criteria).

Accepted drawing medium  Colour pencils, marker pens, crayons, oil pastels, acrylic paint, poster paint, watercolour
You may view the Poster here.
All submitted artworks will not be returned.